Magical Harry Potter DIY Crafts | Creative Movie Crafts | Craft Factory
25 Cool and Magical Harry Potter Inspired Tattoos
By | March 1, 2019
11. The Dark Mark Tattoo
Our next tattoo idea is for the fans of the villains! Here we have a cool design that features the Dark Mark. The Dark Mark is tattooed onto Lord Voldemort's followers and is used to show loyalty and to summon him. This is a fun and quirky idea, you could even have something similar recreated but smaller in size.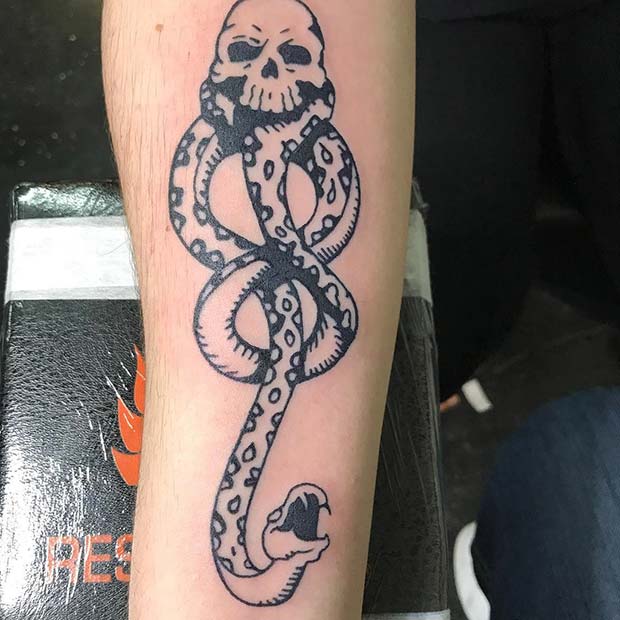 Source:
12. Stag Patronus Tattoo
If you liked the Patronus tattoo featured earlier in the post, then you may like this one to. Instead of featuring the actual spell this one just has the animal design. This is a more delicate tattoo and it would suit anyone. You could have any animal designed into a Patronus charm like this.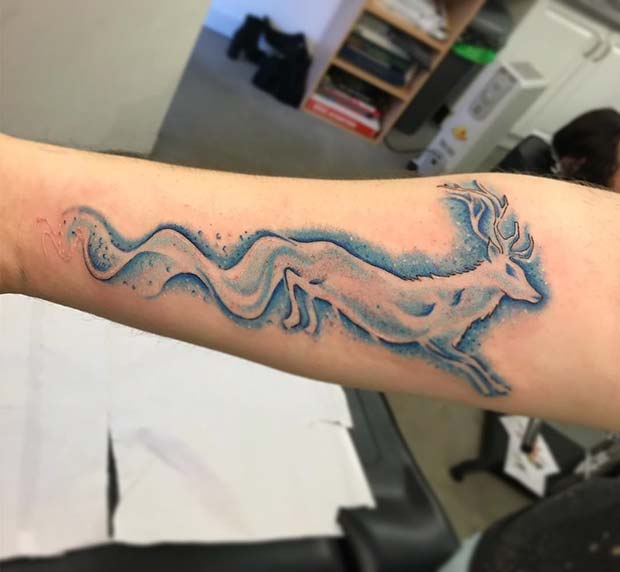 Source:
13. Cute Free Elf Tattoo Design
Next, we have another Dobby inspired tattoo. This body art features a sock with the words free elf. We love this idea because it is unique and features the item that made Dobby free from his masters. This is a must-have for any Dobby fan.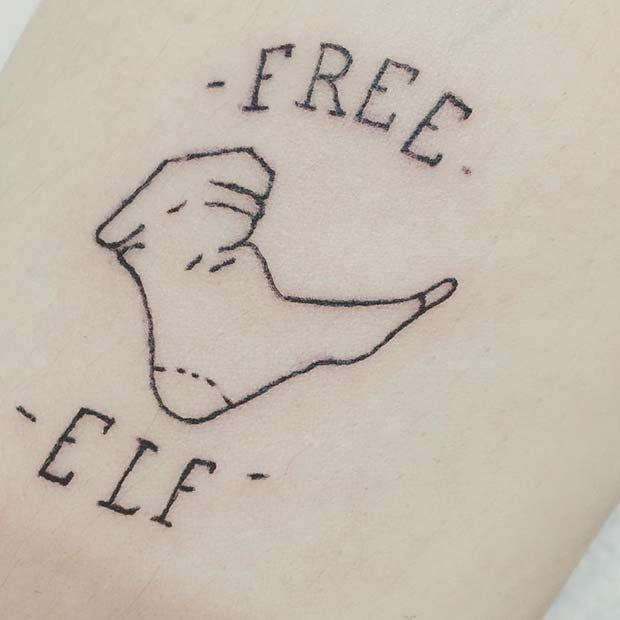 Source:
14. Cool Harry Potter Broomstick Tattoo Idea
Broomsticks and flying is one of the coolest things about the wizarding world. This fan had a broomstick tattooed on their arm. It is an awesome tattoo that could be recreated bigger or smaller depending on the tattoo location. Something like this would suit everyone.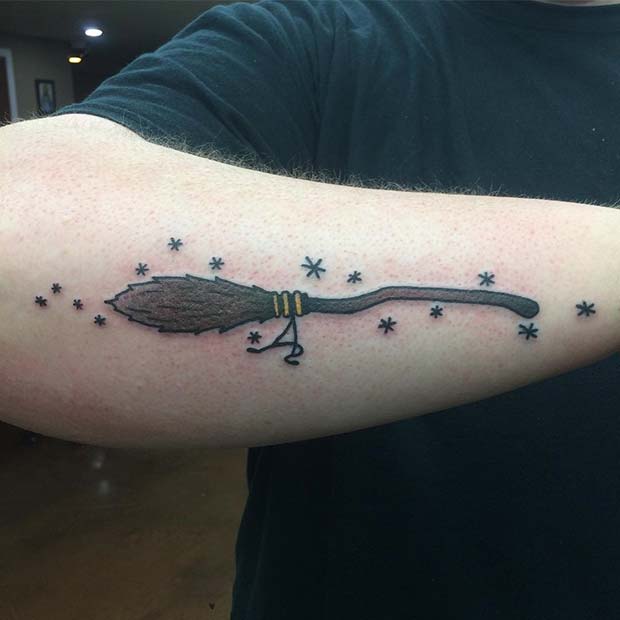 Source:
15. Harry Potter's Glasses and Scar Tattoo Design
If you think about Harry Potter's appearance you will probably think of his glasses and lightning bolt scar. Our next cute tattoo features these two iconic things. A tattoo like this could be quite subtle if placed on the wrist or anywhere else covered. This makes it a great choice for people having their first tattoo.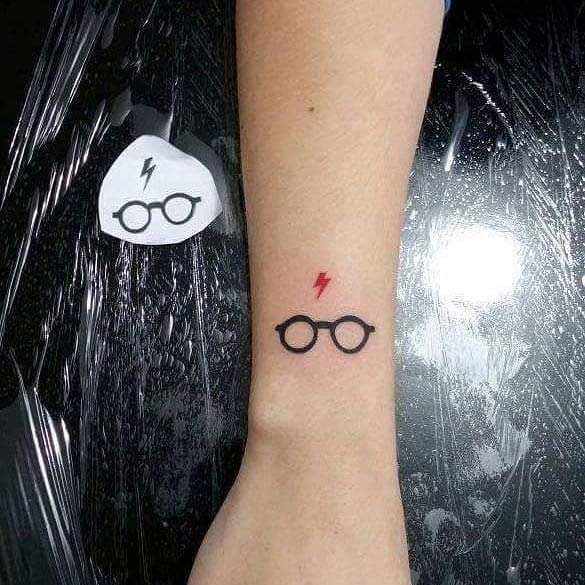 Source:
16. Lumos Spell Tattoo
Next, we have a design inspired by one of the many spells. This small wrist tattoo features the spell Lumos. A tattoo like this would suit anyone and is cool and quirky way to show you are a HP fan. You could recreate something similar or choose your favourite spell.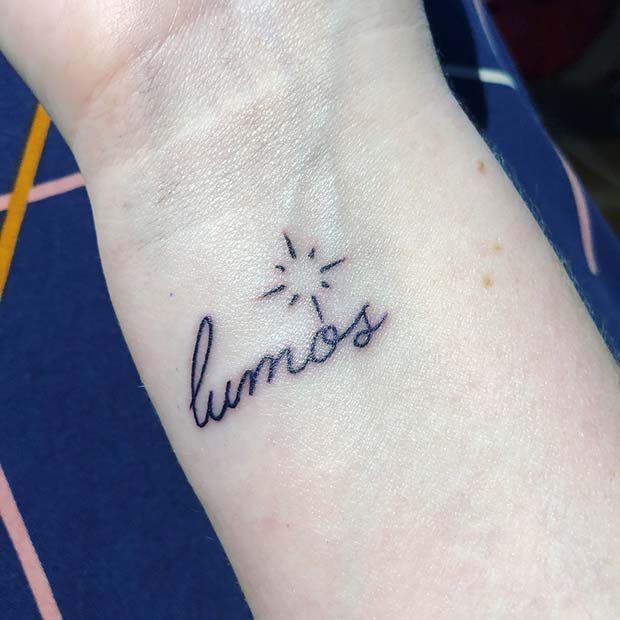 Source:
17. Marauder's Map Design
Our next design is inspired by the magical Marauder's Map. The tattoo is so awesome because the design looks very similar to the map. There are many ways you could recreate this tattoo for yourself. Maybe make the design smaller or even add some of the footprints from the map.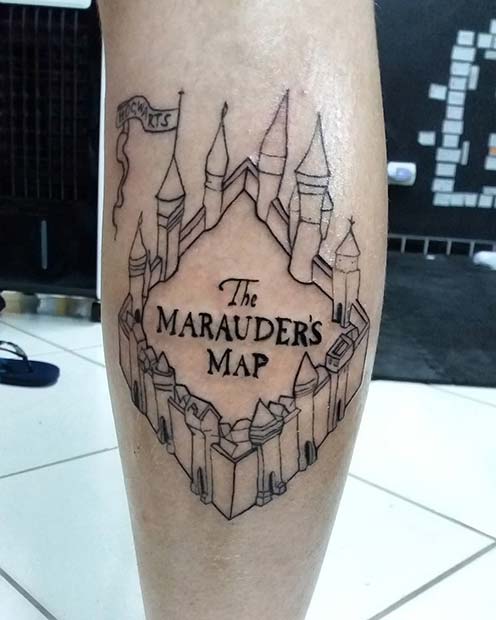 Source:
18. The Golden Snitch Tattoo
Fan of Quidditch? Then consider having a tattoo of the Golden Snitch. This body art is quite simple but really captures the Snitch's design. It is a very cute tattoo that would look cool on anyone. You could even have this inked bigger or smaller and placed on other parts of the body.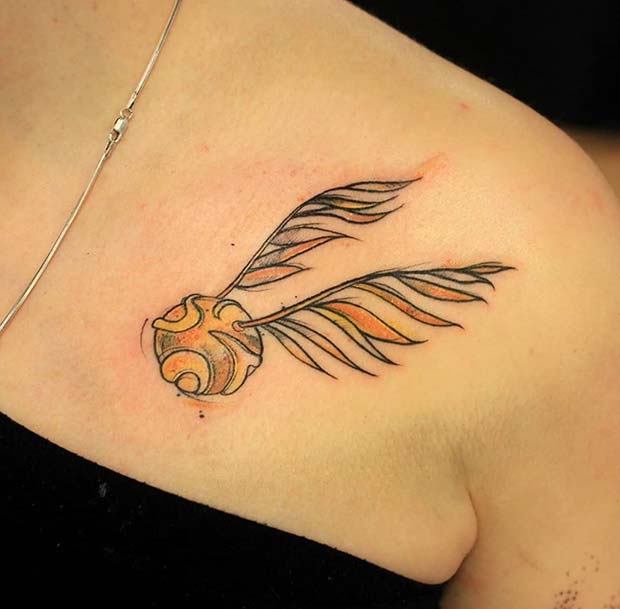 Source:
19. Watercolor Harry Potter Tattoo
Next, we have another tattoo idea with multiple Harry Potter themes. This one features the Patronus Stag, Deathly Hallows Symbol and the quote Always. The quote is a very popular tattoo idea as it is said by one of the stories best loved characters Professor Snape. A similar design could be recreated for you with different colors and different symbols.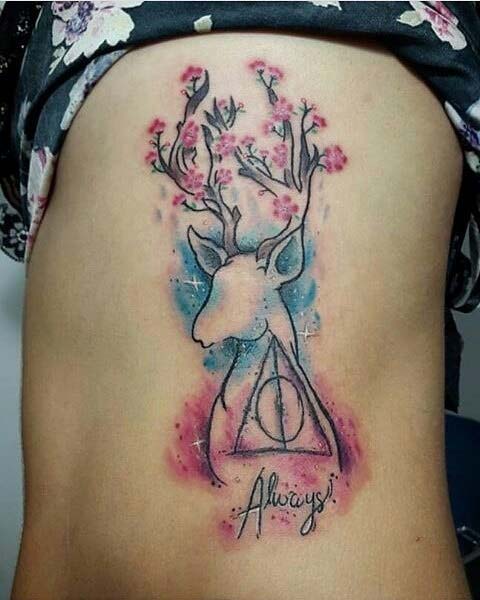 Source:
20. Trendy Wand Finger Tattoo
Looking for a subtler tattoo? Then this next pick could be for you. Here we have a trendy finger tattoo that is designed to look like a wand. Finger tattoos are very stylish so a wand like this would be a great choice. You could have any wand design created to make it unique to you.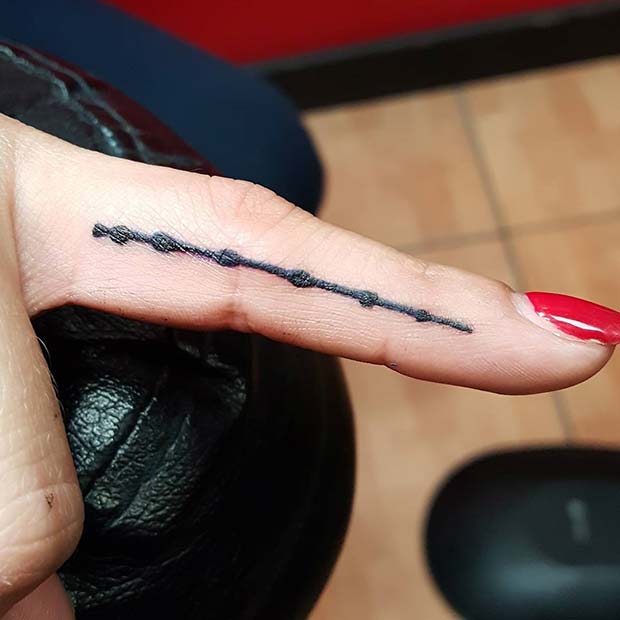 Source:
21. Dobby Tattoo Idea
Our next tattoo is truly a work of art! Here we have a portrait of Dobby the House Elf. The design features dobby wearing a pillowcase and holding a sock. A tattoo like this is bold and makes a statement but it will wow anyone who sees it.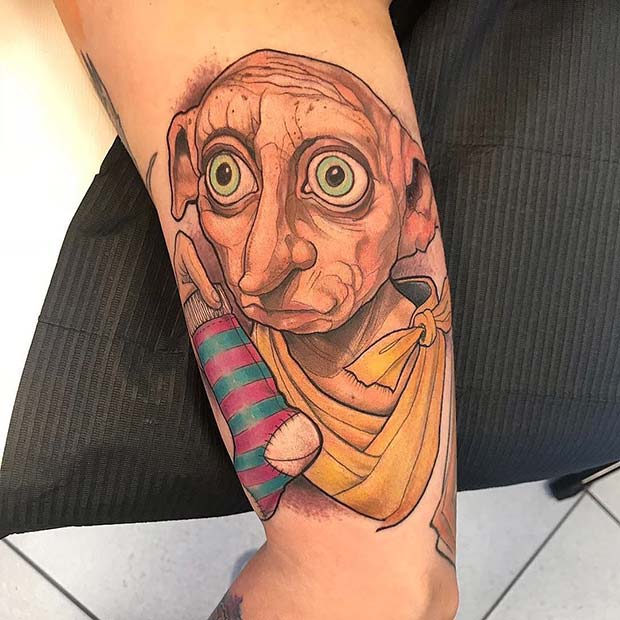 Source:
22. Harry Potter Always Theme Tattoo
If you want a tattoo that features a HP quote, then consider going for Always. It is an iconic line from the series and makes a beautiful tattoo. You could simply have the quote or go for something more unique like this. Some of the letters have a Harry Potter theme. You could have this created in any font and with any small designs.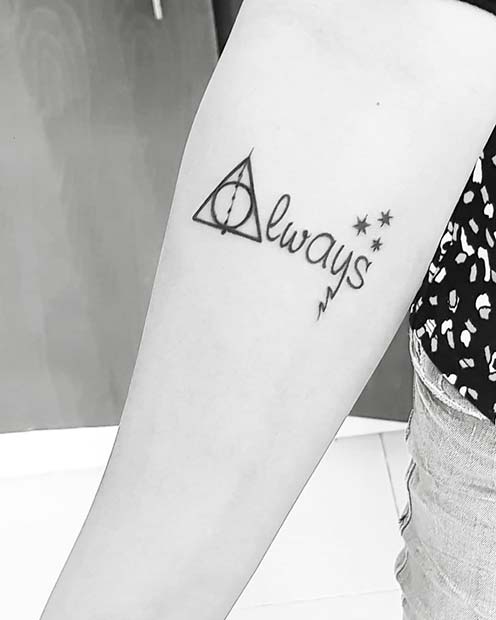 Source:
23. Sorting Hat Design Idea
Last on our list is a tattoo of the Sorting Hat. This magical hat design is in black ink and features awesome shading. A tattoo like this would suit everyone and you could have it bigger to make more of a statement or choose a smaller and subtler version.
Video: 20 COOL BUDGET IDEAS TO DECORATE YOUR APARTMENT || HARRY POTTER DECOR
25 Cool and Magical Harry Potter Inspired Tattoos images
2019 year - 25 Cool and Magical Harry Potter Inspired Tattoos pictures
25 Cool and Magical Harry Potter Inspired Tattoos forecast photo
25 Cool and Magical Harry Potter Inspired Tattoos images
25 Cool and Magical Harry Potter Inspired Tattoos new pics
images 25 Cool and Magical Harry Potter Inspired Tattoos
Watch 25 Cool and Magical Harry Potter Inspired Tattoos video
Forum on this topic: 25 Cool and Magical Harry Potter Inspired , 25-cool-and-magical-harry-potter-inspired/ , 25-cool-and-magical-harry-potter-inspired/
Related News
5 Relationship Problems Therapists See Over And Over Again—And How To Fix Them
How to Treat Diabetes Related Hypoglycemia
Surprising Link Between Rheumatoid Arthritis and Huntington's Disease Discovered May Lead to New Therapies for Both
After Her Husband Died, This Grandma Received the Ultimate Christmas Gift
Sulindac
Meet the Countrys 11 Most Eligible Bachelor Chefs
How to Ruin a Relationship In 12 Days
How Worried Should You Really Be About the Serious Health Risks Linked with Birth Control
Chocolate Parfait with Irish Cream Recipe
The One Question That Finally Changed How I Approach My Health
The Single Most Versatile Skirt, According to Olivia Palermo
Gigi Hadid To Design New Stuart Weitzman Shoes
Exercise-Related Diarrhea and Loose Stools
Low Melatonin Levels Linked to Diabetes, Study Finds
How to Use the Copenhagen Diet
Date: 18.12.2018, 15:48 / Views: 95583
---