KYOTO
PRE-WEDDING PHOTO
IN KYOTO-JAPAN
LA-VIE PHOTOGRAPHY
" Experience Kyoto like never before "
The ancient city of Kyoto has 17 World Heritage Sites, 50 national treasures, and approximately 300 important cultural assests. The numerous historical sites embodies endless histories, preserving seen and unseen cultural significance. No wonder Kyoto is an international tourist city that represents Japan. We hope the preserved beauty of this city can become the background of your wedding photographs, the most significant moment of your life. Either strolling amidst the old shops on Shirakawa, or enjoying the the Kyoto charm on Hanamikoji Street, the Ninenzaka with Yasaka Pagoda of Horyuji Temple as background, the century-old Heian Hotel and its beautiful Japanese gardens, or the thousand-year-old Daikakuji of Arashiyama and its charm of nature, are all definitely worth a visit to experience the charm of Kyoto.
"KYOTO" LOCATIONS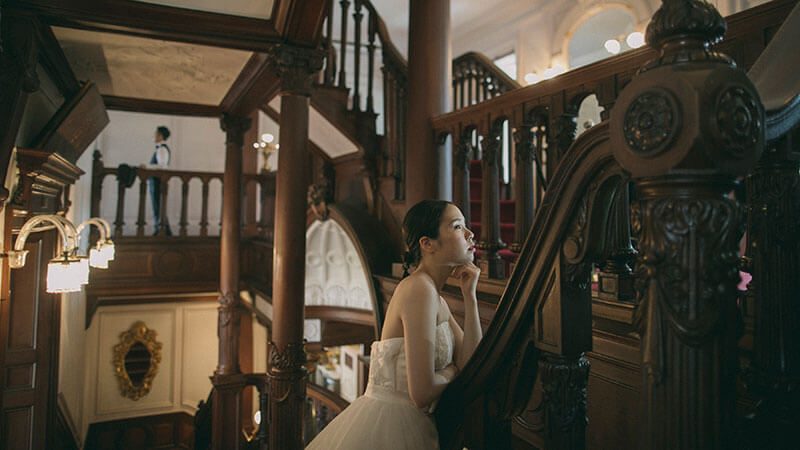 Chourakukan
Chourakukan was built in 1909 for receiving guests domestic and overseas. The famous visitors add to its splendour. The graceful and glamorous Chourakukan is ideal for an artistic and historical photoshoot.
[ADDITIONAL FEE ¥100,000+TAX]
→Learn more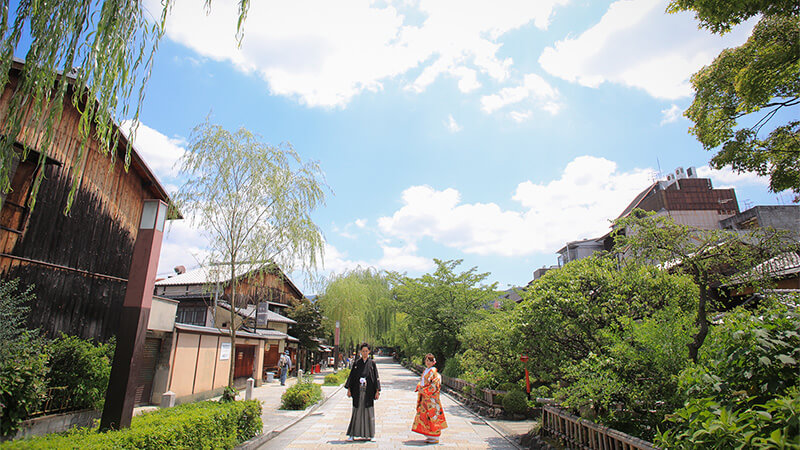 Gion Shirakawa
Shirakawa has stone paved streets, bridges with flowing water, and occasional scenery of geishas passing through wooden machiyas. The beautiful cherry blossoms are even more enchanting at night when the lights are lit.
→Learn more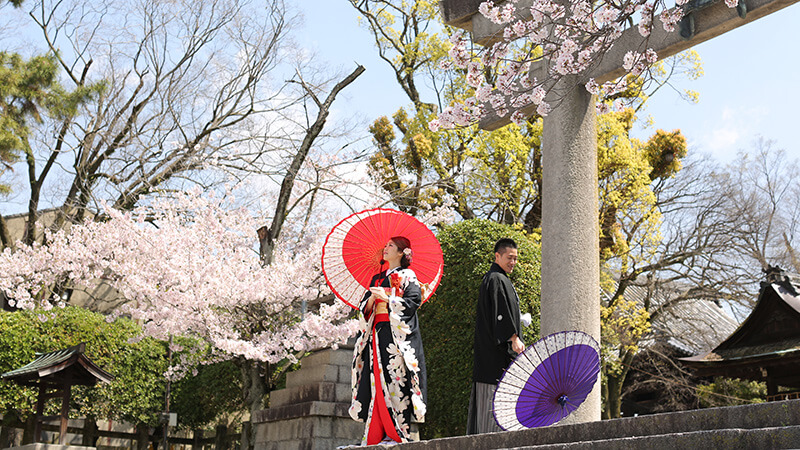 Toyokuni Shrine
Toyokuni Shrine is an ancient shrine connected to Toyotomi Hideyoshi. The Karamon at the front of the shrine is also a valuable architecture identified as a national treasure. The glamorous and magnificent decorations is surely worth a visit.
→Learn more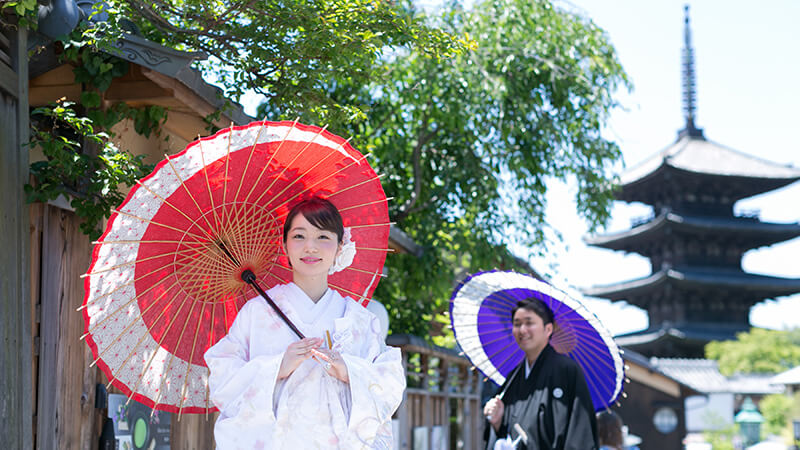 Ninenzaka
The Yasaka Shrine, Maruyama Park, Kodaiji, Yasaka Pagoda and Ninenzaka of Kiyomizu-dera in the south, are all popular tourist sites all year round. The stone paved roads and Kyo-Machiya make each corner worthy of your camera's attention, each scenery a beautiful painting.
→Learn more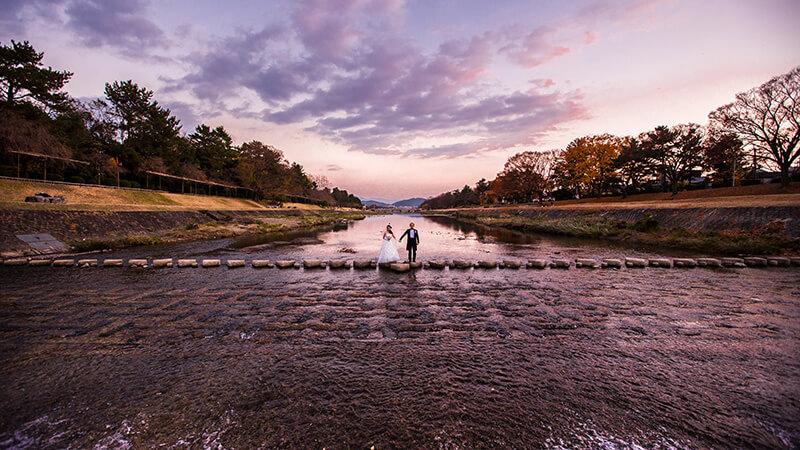 Kamogawa
The Kamogawa, which runs north and south through the city of Kyoto, can be referred to as the birthplace of the culture of Kyoto. The cherry trees along both shores blossom in Spring, and during the Summer there are even wooden terrace for visitors to enjoy cuisine and the pleasant Kyoto Summer in the coolness of the shore.
→Learn more
Azekura
Azekura is a Japanese style space designed for weddings. It covers approximately 10 thousand square meters, and its Japanese garden is filled with magnificent scenes such as cherry blossoms, bamboos and maple leaves.
[ADDITIONAL FEE ¥30,000+TAX]
→Learn more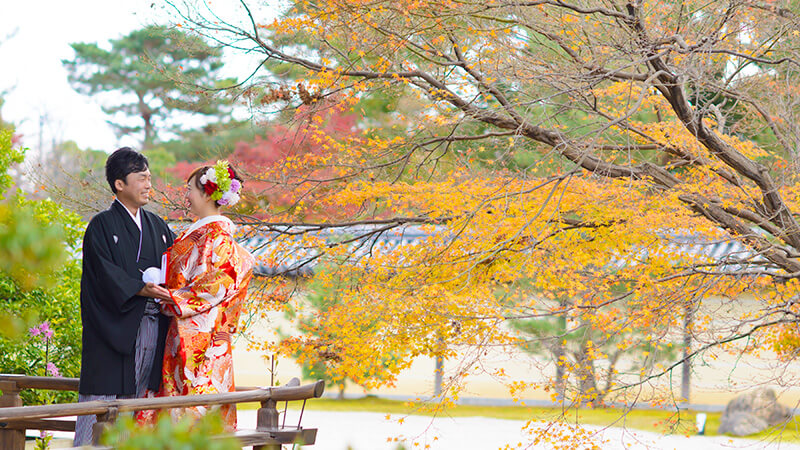 Daikakuji
Daikakuji was built in year 876 photos and is composed by various buildings connected with wooden walkways, and is filled with abundant natural scenery. Regardless of the season, visitors who prefers nature or historical sites will not be disappointed.
[ADDITIONAL FEE ¥50,000+TAX]
→Learn more
Shooting Plans
The most recommend package to take
pre-wedding photos in attractive city Kyoto!
GALLERY
Take a look at some of our actual photos of customers from overseas.
We hope you will find your favorite location, as well as your favorite shooting style.
KYOTO - Labo-la Photo by Taihei

KYOTO - Labo-la Photo by Tsubai

KYOTO - 絢爛 Photo by TATSUYA

KYOTO - acréée 2Days Photo by HAYATO

KANSAI - acréée 2Days [1st day] Photo by HAYATO

KYOTO - 絢爛 Photo by TATSUYA
ШОКИРУЮЩИЕ НОВОСТИ
Related News
Photo booth online game
Baby photography orlando florida
Gisele bundchen hot photoshoot
Places to restore old photos
Studio photography in malaysia
Depth of field calculators for photographers